"Authentic Royal Palm Oil: Support African Villagers, Save the Environment, and Experience Nutrient-Rich Cooking! 🌿"
Unlock the Richness of Royal Palm Oil - Your Ultimate Choice for Premium, Authentic, and Sustainable African Red Palm Oil! 🌿
Why Settle for Ordinary? Embrace the Extraordinary!
🌿 Organic and Non-GMO: Trust the purity of our Royal Palm Oil, carefully sourced from West African villages with over 5000 years of expertise in traditional methods.
🌿 Rich in Nutrients: Elevate your culinary creations with the goodness of carotenoids, Vitamin E, D, Co-Enzyme Q10, and Phytosterol - the ultimate blend for a nourished and healthy lifestyle!
🌿 Environmentally Conscious: Make a difference! By choosing Royal Palm Oil, you support sustainable practices that protect wildlife habitats and preserve our precious planet.
🌿 Exquisite Flavor and Aroma: Savor the authentic taste and aroma that only Royal Palm Oil can provide - no artificial substitutes can match its true essence!
🌿 Unparalleled Shelf Stability: Our shelf-stable oil lasts up to 7 years without refrigeration, ensuring freshness and convenience that stands out in the market.
🌿 High Smoke Point: Master the art of frying! With a smoke point of 425 degrees F., Royal Palm Oil reigns supreme for perfectly golden and delicious dishes.
🌿 Empowering Local Communities: Your purchase empowers African villagers, creating sustainable employment and economic growth for the local population.
🌿 Trusted by Experts: Say goodbye to mass-produced oils! Top chefs and health enthusiasts trust Royal Palm Oil for its genuine quality and nutritional richness.
Step into a World of Authenticity and Excellence. Choose Royal Palm Oil - Because You Deserve the Best!
Don't Settle, Elevate Your Cooking Experience Today! Shop Now and Experience the Royal Difference! 🌿
Royal Palm oil
Benefits of Royal Palm Oil
Premium Quality: Royal Palm oil is sourced from the heart of Africa, ensuring the finest and most authentic product.

100% Organic: Our oil is completely organic, free from harmful chemicals or additives, promoting a healthier lifestyle.

Rich in Nutrients: Packed with essential vitamins and nutrients, Royal Palm oil enhances the nutritional value of your dishes.

Versatile Cooking: Ideal for various culinary applications, from frying to baking, adding a delectable touch to all your recipes.

Natural Flavor Enhancement: Infuse your dishes with a rich, natural taste and aroma that elevates your cooking to new heights.

Heart-Healthy: With zero cholesterol, our oil supports cardiovascular health and well-being.

Ethically Sourced: We uphold sustainable practices, ensuring a positive impact on the environment and local communities.

Exotic Touch: Experience the authentic flavors of Africa in your cuisine, exploring unique tastes and cultural heritage.

Trusted Brand: Royal Palm is a symbol of culinary excellence, trusted by food enthusiasts and chefs alike.

Competitive Pricing: Enjoy the finest quality at a great value, making Royal Palm oil the perfect choice for your kitchen.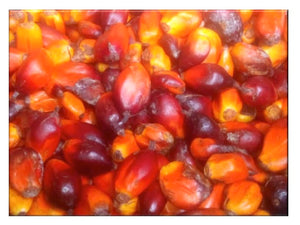 Organic Palm Oil

Organic Palm Oil, Natural Red Palm
Oil, Thick Natural Palm Oil, Red Palm Oil

Talk about your brand
Discover Royal Palm - where culinary excellence meets natural goodness! Our brand offers premium organic Red Palm Oil and African spices sourced from Africa, delivering authentic flavors and vibrant aromas to your kitchen. 100% organic, competitively priced, and bursting with nutrients. Elevate your dishes with our culinary treasures and unlock a world of rich tastes and cultural heritage. Join our passionate community of food enthusiasts and embrace the finest nature has to offer. Elevate your cooking experience with Royal Palm today!