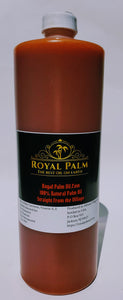 Organic African Red Palm Oil 1 Litre in a squeezable liter bottle. Palm Oil 1 litre Bottle, Organic African Palm Oil, Palm Oil.
Palm Oil 1 Litre
The 1litre bottle of organic African Palm oil is rich in vitamin E critical for keeping the immune system healthy and helps cells communicate. Studies show that a diet rich in vitamin E reduces the risk of heart disease, certain forms of cancer and age-related macular degeneration. The form of vitamin E found in organic African palm oil is known as tocotrienol which has been shown to protect brain tissue from dangerous free radicals more effectively than other antioxidants.
Palm Oil 1 Litre
What Is Palm Oil Used For?
Red palm oil can be used to cook soups, sauces, and food. Here's a list of foods red palm oil is used for:
Red Palm Oil Popcorn

Hemp Hummus with Red Palm Oil

Red Palm Oil BBQ Sauce

Deviled Eggs with Red Palm Aioli

Red Quinoa and Porcini Mushroom Pilaf

Coconut Curried Red Lentil Soup with Spinach

Red Lentil Stew with Chard

Palm Oil 1 Litre
Red palm oil is also used in Making soaps, Shampoo, and skin products. The skin being the largest organ in the body is better served absorbing healthy edible oils than petrochemical products as their main ingredient.
Frequently Asked Questions (FAQs)
Q) Why is palm oil consumption good for health?
A) Palm oil is a great source of carotenoids and vitamin E, which act as antioxidants to help prevent cell damage.
Palm Oil 1 Litre
Q) Sustainable palm oil?
A) Sustainable palm oil is one that the growth, harvest and processing of the palm fruit has no impact on the environment or natural animal habitats. Royal palm sources its palm oil from West African villages where the Oil Palm tree grows naturally in the tropical rain forest as opposed to massive plantations that practice deforestation and other environmentally hazardous practices.
Q) Where does it come from?
A) The 1litre red palm oil is produced in villages across west Africa where the oil palm tree grows wild in the forest and villagers extract the oil using methods used for over 5000 years and shipped to the US. Royal Palm Oil is bottled in USA.